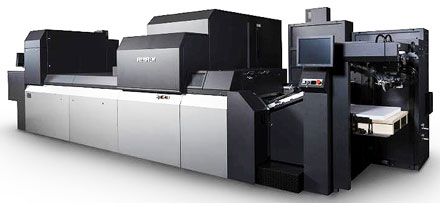 Fujifilm North America Corporation (Hanover Park, Illinois) has announced the launch of its J Press 750S HS (High Speed) model, featuring "the industry's fastest sheetfed digital inkjet press" (as of April, 2021 in B2 digital inkjet printers) with output speeds of 5,400 B2 sheets per hour (sph). The launch video is currently available on Fujifilm's new graphics systems believinginprint website, with the actual rollout expected this Fall. In addition to all the benefits offered by its high image quality, colour consistency certified by Idealliance, and 90%-plus uptime, this new model retains all the industry-leading features of the current J Press 750S for commercial and folding-carton package printing. Major features of the J Press 750S HS (High Speed) model include:

• High image quality that outperforms offset printing. Utilizing advanced ultra-high-density and high-precision SAMBA printheads and aqueous pigment Vividia ink, the J Press 750S HS Model is able to produce ultra-high-quality print "equal to or even better than offset."
• High-speed output of 5,400 sheets per hour. The J Press 750S HS has "the highest productivity available" for a sheetfed inkjet press – 1.5 times faster than that of the current J Press 750S.
• Flexible modes to increase efficiency. Depending on the type of job being run, high-quality mode (3,600 sph) and high-performance mode (5,400 sph) can be switched for maximum flexibility.
• Lower total cost of ownership. The high-speed model makes it possible to transfer a wider range of offset jobs to digital, reducing the total cost of ownership.
• Easy upgrading. On-site upgrades are available for new and current J Press 750S owners.
The post Fujifilm unveils new J Press 750S high-speed model appeared first on Graphic Arts Media.