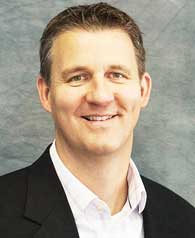 In this special feature, Lee Patty, VP and General Manager at NiceLabel Americas, explores one of the most critical, but often overlooked, elements in the packaging process – sustainable label management. Established in 1993, NiceLabel is a leading global developer of label design software and label management systems that help companies of all sizes improve the quality, speed and efficiency of their labeling, while reducing costs. Headquartered in Slovenia, the company also has offices in the USA, Germany, Singapore and China.
Packaging waste is on rise, and consumers know it. In fact, packaging accounts for more than 28% (or 82 million tons) of municipal waste each year in the U.S. alone. And that's not to mention waste generated by global supply chains – like over a billion pounds of food waste, over a half billion tons of CO2 emissions from shipping alone, and a rapidly growing e-footprint generated by the buzz of digital equipment used to process it all. With so much waste, it's no wonder that many consumers are willing to change their buying behaviour to support sustainable companies, or that businesses are answering this with new solutions to reduce their footprint. Yet, in the midst of this movement, manufacturers and suppliers can benefit greatly from focusing on one of the most critical, but often overlooked, elements in the packaging process – sustainable label management. The fact is that inefficient legacy IT equipment and manual label-management practices burden supply chains. To become truly sustainable, manufacturers will need label-management solutions that support agility, ensure compliance and reduce errors while boosting visibility. So, if you're wondering how label management can play a large role in sustainability, just keep reading.
The cloud translates to more sustainable labeling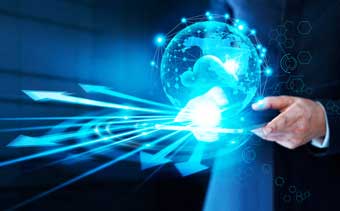 From an operations standpoint, cloud-based labeling provides a huge number of benefits, such as the capability to centrally access and store labels from anywhere, the ability to digitize quality assurance, and the ability to easily extend labeling tools to third parties. Additionally, the cloud is lighter and requires less infrastructure – so it drastically reduces the electricity consumption needed to create labels and packaging on a large scale. Moreover, cloud-labeling solutions are increasingly being configured to work seamlessly with cloud-connected printers as part of a fully integrated infrastructure. This means that users can print labels from any cloud-connected mobile device or application in their network, which reduces the need for always-on local infrastructure such as servers or PCs that may otherwise consume electricity. In a sense, the cloud simply does more with less because it centralizes labeling and reduces waste from silos. With it, users require fewer hardware and IT resources. And companies may even reduce extra shipping between locations and suppliers, because cloud-based labeling can eliminate the need to print labels at one specialized facility.
Overhauling quality control
Quality control is one of the biggest areas where improved labeling can enhance sustainability. For decades, manual processes such as 'six eyes,' where three individuals physically inspect labels before approval, have not only been time-consuming, but are also prone to human error and a reactive mode of operations. With a cloud-based approach to label management, human mistakes can be reduced while many errors can be prevented pre-emptively. For instance, standardized templates can be stored centrally, and access can be granted based on an employee's role – which provides more control of who can create, alter and use label designs. With a simple-to-use and implement solution, standardized designs can also be easily extended to third-party suppliers. This ensures that the right labels are being used and further eliminates design errors leading to relabeling or recalls. Additionally, if a labeling solution is centralized or delivered via the cloud, unplanned downtime and delays can be reduced because there are fewer individual points of failure.
Improving labeling accuracy and the need to prevent recalls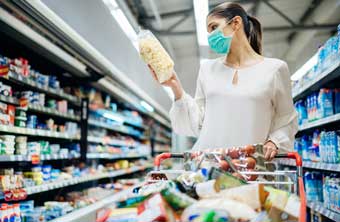 Recalls not only lead to delays, extra shipping and useless packaging, they also contribute to the waste of products, food and other perishables. And in this scenario, everyone loses – from suppliers to consumers to the planet itself. Modern labeling solution that can ensure accuracy and efficiently are key to sustainability, while eliminating wasteful, manual processes. As an example, the food and beverage industryoften uses direct marking printers to ensure expiry dates and batch numbers are correctly displayed on food products. And the label information for these printers is oftenentered via a Human Machine Interface (HMI), which often involves physically entering data into touchscreens. Physical data entry and other manual processes can increase the chance of common errors, such as the wrong best-before date or lot number. And with these mistakes being all too frequent, many perishable products – such as vegetables, meat or milk – often must be scrapped or quarantined, leading to lost sales and considerable waste.
As opposed to manual processes, digital labeling makes direct marking much more streamlined and safer because it can connect labeling with other operations. For instance, many businesses don't integrate direct marking with their larger business systems, such as Manufacturing Execution (MES) and Enterprise Resources Planning (ERP) systems. In this case, each facility in a network may use a different procedure, making it difficult to standardize labels and provide technical support. It's also common for various production sites in the same organization or supply chain to use different levels of integration. This disorganization is often why some facilities still rely on manual data entry on standalone systems, even if other members of their organization don't.
Meeting sustainability regulations and expectations for years to come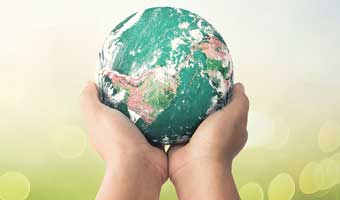 Labeling regulations and expectations often change. To use food and beverage as an example, the entire industry is under more pressure than ever to ensure stricter regulations on nutritional and allergen labeling. Additionally, there's an increasing focus on labeling the source of products. While these changes can be helpful to larger initiatives around sustainability and ensuring consumer welfare, they also present challenges when organizations must adapt their labels quickly. And these challenges can multiply when companies must manage integrations during a merger or acquisition – or even work with third parties to produce and ship goods. With so much on the line, manual processes are simply impractical. But when done properly, a modern digital approach to label management can help organizations ensure more sustainable supply chains, while also boosting their bottom line. So, if labeling is hindering your overall sustainability goals, it may be time for a digital or cloud update.
About the author. Lee Patty is VP and GM at NiceLabel Americas, overseeing sales, project delivery and operations in the Americas. Prior to NiceLabel, he co-founded Niceware International, a NiceLabel distributor, where he was responsible for marketing, healthcare product development, and professional services. NiceLabel acquired Niceware in 2013, adding Patty to its global executive team. He has over 20 years of AIDC industry experience and has also held sales, marketing and technical roles at Brady Corporation and Innovatec Communications. Earlier this year, NiceLabel and Loftware (Portsmouth, New Hampshire) combined to expand their global leadership in Enterprise Labeling and Artwork Management. The companies bring together over 60 years of industry expertise.
The post Label management in the cloud: A vital key to sustainable packaging appeared first on Graphic Arts Media.